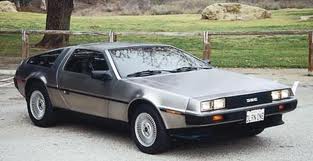 In 1973 General Motors executive John Zachary DeLorean suggested the construction of a completely new sportscar. When the company refused to explore this idea, DeLorean quit his joband set out to build a sportscar on his own. It was eventually launched in 1981 and today it is one of best known cars in the world, not thanks to its own merits, but because of the controversies surrounding the car and its production and maybe even more importantly because of its appearance in the three 'Back to the Future' movies.
In many ways the DeLorean DMC 12 was a Lotus Esprit clone, with a Giugiaro designed body and a steel backbone chassis. Designed to be a long lasting car, the DeLorean's body was executed in stainless steel, which on most cars was left unpainted. Another striking feature were the gullwing doors, giving access to the two seat cockpit. Mounted behind the passenger compartment was the V6 engine developed jointly by Peugeot, Renault and Volvo (PRV). It offered similar figures as the Lotus Esprit's engine, but the heavy body meant that it was outperformed in every way by the Esprit.
Funded in part by the British government, DeLorean opened a factory in Northern Ireland, where the DMC 12 production started in 1981. Despite the car's relative success, John DeLorean was quickly running out of money. In 1983 he was arrested and accused of cocaine trafficking. Eventually the drugs charges were dropped in 1984, but the DeLorean Motor Car Co. was declared bankrupt. Just over 8500 examples were produced in the Northern Ireland factory.
The DeLorean's main claim to fame came in 1985 when it starred in the Hollywood movie 'Back to the future'. In slightly modified form it was used in the movie as a time traveling device in which Michael J. Fox traveled back to 1955. In the two following sequels, the DMC 12 again starred as a time machine.
Today the DeLorean has a strong following, but it remains a relatively affordable classic. In the late 1990s John DeLorean again proposed the construction of an affordable sportscar, but he failed to get financial backing. He passed away at the age of 80 in March 2005.
Featured is a DMC-12 fully restored and in exceptional condition.
Contact us regarding this listing
Back to Top